METERAtt Turner's football journey is not what could be called traditional. He he didn't start playing the game until he was 14 years old – and that was because he wanted to stay in shape for basketball and baseball. Even then, he only played in goal when another player got injured. From there, he went from being a standout in MLS to Arsenal and starting goalkeeper for the USA at last year's World Cup. But he always wants more, something that becomes clear when he reviews the team's performance in Qatar.
"There's hunger," Turner says, reflecting on the loss of the United States to the Netherlands in the round of 16. In the group stage, they had impressed with their style of play and came face to face with England in a 0-0 draw. The Americans had also achieved the main goals born out of the remnants of the disastrous 2018 World Cup qualifying campaign: reaching Qatar and reaching the round of 16.
But Turner feels the US was able to do more in Qatar, and failing to do so has hurt. "Believe [future US generations] I'll look at it as a springboard, but also as a missed opportunity in some respects, because we were playing very, very well. I think a lot of us are very disappointed afterward," he says.
However, what they achieved was commendable. The disappointment comes only because at that moment they genuinely felt capable of making history, and not just in the future, but at that very moment, with that equipment.
"If you had told us earlier: 'Oh, you're going to make it to the round of 16. You're going to play well, but you're not going to win.' You would have said, 'You'll take that. You will take that. Because that's what many [US] teams have done in previous World Cups. But to be there, to be on the brink of the quarterfinals and just not being able to make the plays that we needed to make, I think some people will see that as a disappointment."
For Turner, how the US ultimately defines the 2022 World Cup depends on what happens when they host the tournament in 2026, in my opinion," he says.
The United States had the second youngest roster in Qatar. In 2026, the main players should return with even more experience, and on their home soil.
"I think for us, it's clear. You know, having a core group of guys who came this close to doing something really spectacular… The hunger is there, you know, the drive is there. Passion is a burning fire that I imagine will keep growing and growing until 26," she says.
One aspect of the team he doesn't want to expand on is the recent fiasco revolving around the parents of Gio Reyna and former (and possibly future) USA coach Gregg Berhalter.
Like many of his teammates, Turner is not interested, at least as far as the media is concerned, in delving into the details of what happened in Qatar, where Reyna and Berhalter appeared to have a falling out. But he is now remarkably rooting for Reyna, emphasizing the effort the Borussia Dortmund player showed at the most recent US training camp.
When the European-based US players returned from the World Cup, a significant number of them, including Turner, found themselves in a battle for playing time. Others, such as Brenden Aaronson, Weston McKennie and Tyler Adams at Leeds, found themselves in relegation battles. But Turner sees such fights as a positive for the US in the long run.
"If you think about a lot of the guys that are in those battles, or fighting for playing time, whatever, a lot of them are still very young," says the 28-year-old, whose appearances for Arsenal they have been restricted to the FA Cup and the Europa League. "Having these experiences and life experiences, they are only going to help them… and they will help us as a country."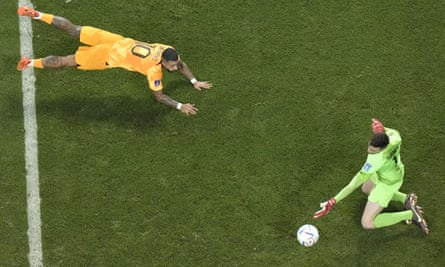 And Turner thinks there's already a lot to celebrate — particularly the number of American players in Europe's top leagues.
"Obviously, in a perfect world, we all play for the best clubs in Europe and we all play in the Champions League," he says. "But that's not really a realistic thing right now. But I think if you said 10 years ago that we would have so many players in the Premier League. People would have rolled their eyes."
He adds that the more Americans there are abroad, the more opportunities others have, which will eventually pay dividends for the national team. "It's a process," he says.
For Turner, that process has taken him to the top of the Premier League with Arsenal. Under the tutelage of Mikel Arteta, Turner feels that he has become stronger, faster and more mentally sharp. And with the Gunners in a title battle with Manchester City, he has learned what it takes to win with the stakes high week after week.
"I think that playing with a coach like Mikel, who is very demanding day after day, has helped me. Being surrounded by very high-quality players, and… our team performing at a high level, seeing what it takes to consistently succeed at the top was really eye-opening for me," he says.
Moving to a Premier League club also forced him to eliminate any weaknesses in his game.
"I was able to identify areas where I needed to improve, that maybe I could get away with in other leagues," he says. "But in this league, you're going to have the best players in the world day after day."
As for Arteta sketch of a brain and a heart holding hands, made famous by Arsenal's All or Nothing series? That wasn't just for show.
"That's how he is. He likes to make your mind work in different ways, turn it on and try to get your blood pumping in different ways, just to open up your mind," Turner says.
"And I think one of my favorite qualities about him is that he always has my back. No matter what I do on the field, you know, he'll have my back because he knows that he works very, very hard. I do my best every day. And it's easy to play for a guy like that, no matter how demanding he is. You know, you put yourself out there and try to make his ideas come to life. And he will always have your back."
Turner hopes to continue his growth, adding new chapters to his unexpected rise, as he targets the league title with Arsenal. His London home has been a revolving door, with friends and family eager to see the UK. But if Arsenal win the league, he jokes, he may have to put a limit on the arrival of family and friends to celebrate.