Officers dealt with what they called a "large scale disorder" after receiving reports of the collision on Snowden Rd around 6 p.m.
At least two cars were set on fire as trouble raged for hours, involving dozens of young people, some of whom covered their faces with masks.
A fire was burning and a helicopter could be heard hovering overhead as rioters hurled missiles, including fireworks, at attending officers. Police said the collision "had already occurred when officers arrived."
Scenes broadcast live on YouTube showed youths throwing fireworks and other missiles at a line of police with riot shields blocking one end of the street.
---
READ MORE: Fireworks launched at burnt out cars and containers as youths riot in Dundee
---
Shortly before midnight, a car was set on fire and burned fiercely, while a second vehicle was overturned and set on fire.
A member of the public was attacked because rioters thought he was an undercover officer, according to one of the senior officers on the scene.
Police, including horse-mounted officers, were seen outside the Ely police station in the early hours of Tuesday after it was suggested it might be a target.
Just before 3am, rioters advanced up Highmead Road in Ely, followed by police trying to disperse them.
The rioters continued to launch missiles and set cars on fire.
John Urquhart, the general secretary of the UK Harmony Party, lives in Ely and witnessed the escalation of the incident from the start of the night.
He told the PA news agency that the police's lack of communication with the community may have led to the escalation of the event.
He said: "The key from the beginning was that they didn't communicate with the crowd, there was no attempt to communicate with the crowd and they showed nothing but disdain for the community and acted like we didn't deserve to know what happened. at our own doorstep.
"There was no one going through the crowd crucially, I think the police really needed people to talk to the community and put their minds at ease."
Urquhart, who has lived in the area for the past several years, said the situation began to worsen around 8 p.m.
"The vast majority of the people who were standing on that street were there because they wanted to know what would happen next, there was a very small number of people who actually committed any kind of violence," he said.
He said he is very "anti-violent" and was offering first aid to people during the night.
"There was definitely a small group doing stuff, but the vast majority of other people were just watching and having that normal street camaraderie that you get when something happens on your street and you have no control over it."
He said the community in Ely is very close.
"When you start to see it in context, it's the emotions that have built up and been bottled up and eventually I think the police brought in too many people or were too visible."
At 8:21pm, South Wales Police tweeted: "A large number of officers are now working to manage the collision, but also to reduce the ongoing disorder at the scene.
"We urge all involved to leave the scene immediately and ask local residents to stay away while the matter is brought to a safe conclusion."
At 1:10 a.m., police said they were continuing to monitor and respond to the "disorder in Ely," adding: "Several vehicles were set on fire. Arrests are being made. A large police presence remains in the area."
Jane Palmer, the owner of a burnt-out Ford Focus on Highmead Road, said she and her family watched from their window as rioters set their car on fire.
Ms Palmer said: "I'm disabled so now I'm stuck without my car.
"Why are they doing this? It's nonsense now."
The family tried to stop the fire using water from their garden hose.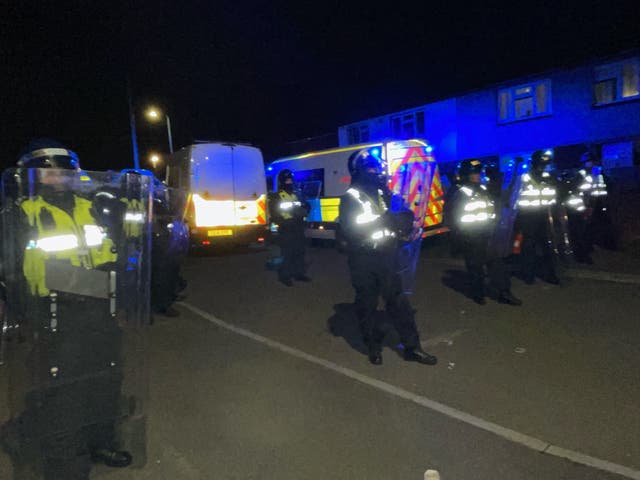 A man named Connor, who also lives on Highmead Road, said: "It's been a crazy night. This is not the norm around here, but people are pretty anti-police and it reflects on both sides, not that that's my opinion.
"Although we have been affected by this riot, I still understand it. When people have enough, this is what happens."
---
READ MORE: Halloween riot in Dundee: they accuse a teenager and denounce another
---
The rioters set the dumpsters and wheeled bins on fire, as well as cars, as armored police continued to move them through the streets.
The rioters gradually moved up Highmead Road in Ely, Cardiff, followed by police trying to disperse them.
The rioters continued to launch missiles and set cars on fire.
A Highmead Road resident, who did not want to be named, told the PA news agency: "Enough is enough. This has gone further.
"When people make fun of what happens on social networks, they cross the line.
"This is our neighborhood and those who do this are just children. It has to stop".