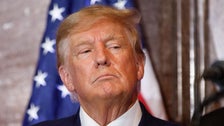 The decision allows him to broadcast his views and promote his candidacy for the 2024 elections among millions of followers.
The company said in late January that it would reinstate its accounts "in the coming weeks."
CEO Mark Zuckerberg announced on January 7, 2021that his company would block Trump's post after the then-president encouraged his supporters to mount an assault on the US Capitol over unsubstantiated lies about the 2020 election.
Meta did not respond to a request for comment on the restoration of its accounts on Thursday.
However, the former president has so far not chosen to use his restored Twitter account. Instead, he has stayed with social truththe imitation of Twitter that launched last year.
The last posts that Trump made on Facebook, Instagram and Twitter date back to January 6, 2021, when his supporters stormed the Capitol, leaving several people dead in their wake. But he retains millions of followers on all of his accounts.
On Truth Social, he has refused to let go of the idea that the 2020 election was "robbed" from him, despite a lack of evidence, and uses the platform to make grandiose claims and share fan art of himself.