Throughout her journey she raised funds for the charities Mary's Meals and Dementia UK.
She attended a general audience at the Vatican on Wednesday alongside her 94-year-old godfather Desmond McGowan and a friend, and was then invited to meet Pope Francis.
The meeting came as a surprise as she only found out the day before.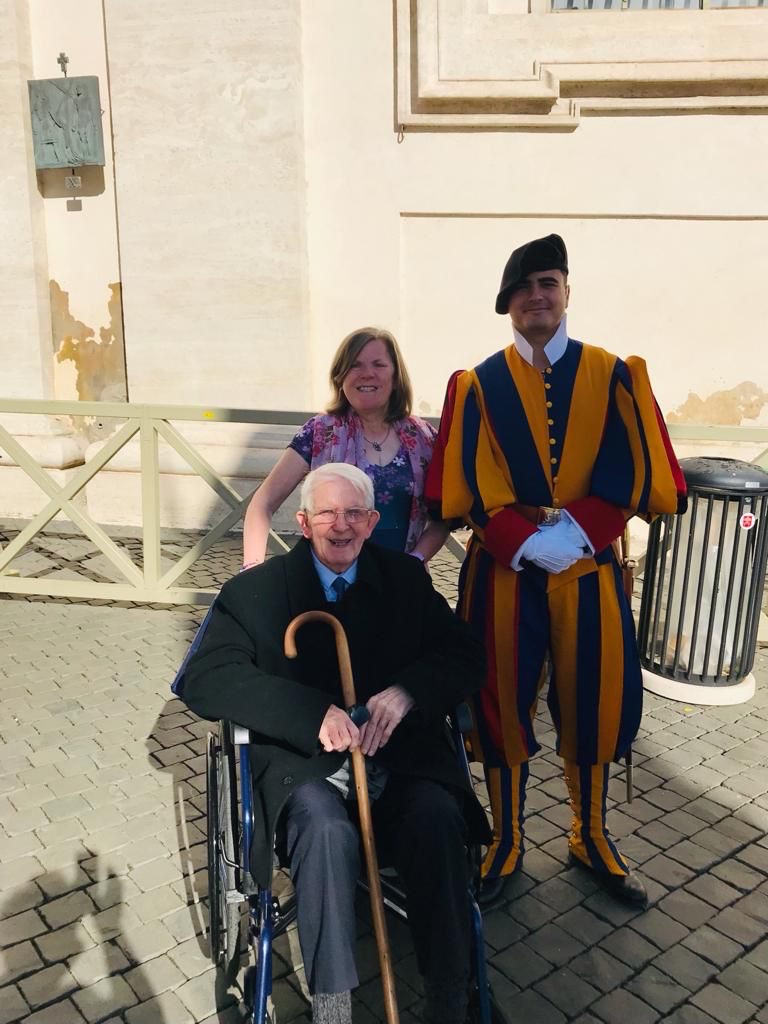 She said: "Tears flowed when I found out that I would be meeting Pope Francis.
"It was such a lovely and surreal experience to be so close to the Pope. Desmond was there representing my late parents, Pat and Agnes, and said 'what would they be saying now?'.
"The Pope was brought to us on his wheelchair and I shook his hand and gifted him a copy of the book The Shed That Fed 2 Million Children, the Mary's Meals story. He smiled and nodded, a fleeting moment but one I will never forget."
During her trek, Ms McFaul, a freelance risk management consultant, walked on average 12 miles a day pulling her trailer on a route which took her through the Alps.
Describing her arrival in Rome, she said: "It was such an emotional moment for me when I walked with my trailer into St Peter's Square.
"The tears flowed then too, and continued as one by one I saw and hugged my friends who were waiting for me.
"Three of them walked with me the last few miles too, which was lovely to have their company as I reached the finish line."
She has so far raised almost more than £10,000 for the two charities.
Mary's Meals serves nutritious school meals to more than 2.4 million children in 18 of the world's poorest countries.
The charity's founder, Magnus MacFarlane-Barrow, said: "I am in awe of Geraldine, and those who have supported her, for their incredible kindness to the children we serve.
"At Mary's Meals, we often talk about little acts of love, but this is a huge act.
"Walking from Glasgow to Rome is an unbelievable achievement and I am so delighted for her, not only to complete her challenge, but to share a moment with Pope Francis."
Dementia UK is a specialist nursing charity that supports whole families.
Its nurses, known as Admiral Nurses, provide free specialist advice, support and understanding to anyone affected by dementia.
Dr Hilda Hayo, chief Admiral Nurse and chief executive of Dementia UK, said: "Everyone at Dementia UK has been blown away by Geraldine's fundraising efforts, and the whole charity sends our heartfelt thanks and congratulations as she crosses the finish line in Rome.
"In taking on this mammoth challenge, Geraldine has raised vital funds which will help families and individuals affected by dementia access the life-changing support offered by our dementia specialist Admiral Nurses and national helpline."
Anyone wishing to donate can do so at https://www.justgiving.com/fundraising/geraldine-mcfaul to support Dementia UK, or at https://www.justgiving.com/fundraising/geraldine-mcfaul1 to donate to Mary's Meals.