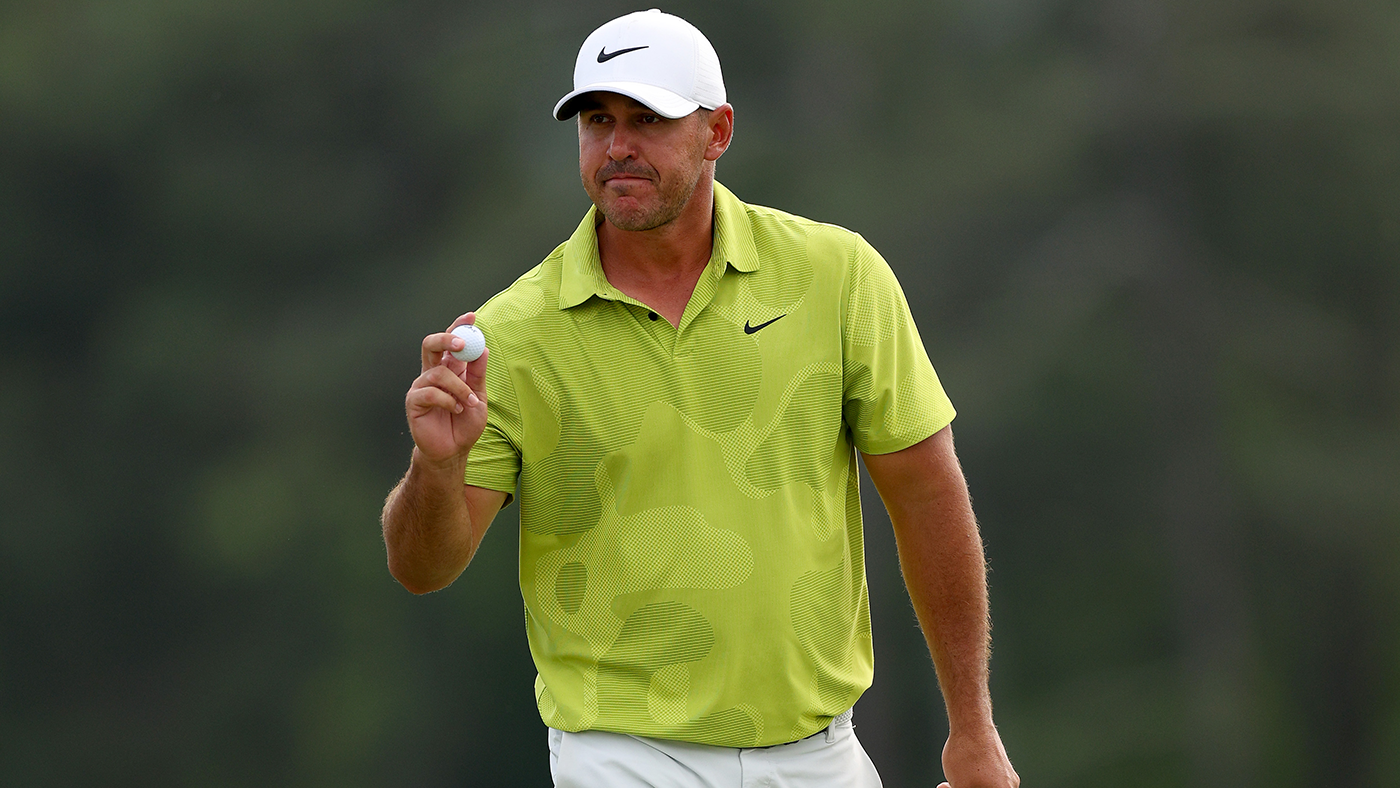 AUGUSTA, Ga. — Two months ago, Brooks Koepka pouted and sulked during a riveting episode featuring the 2022 Masters in the Netflix special, "Full Swing." The bottom line came when he shot 75-75 in the first two rounds, missed the cut and lamented, "I'll be honest with you, I can't compete with these guys week after week."
In Thursday at the Masters 2023just a year after a desperate Koepka looked like he was cooked up like a great golf champion, he shot his best round at Augusta National with an eight-birdie 65. He is tied for the lead with Jon Rahm and Viktor Hovland after 18 holes. .
"Anytime with something like that, you don't see everything, do you?" Koepka said about the remarkable episode. "A lot of it, it's all based on injuries."
Koepka looked reasonably healthy entering last year's Masters, posting four top-20 finishes in six starts prior to that event. He insists that he is much healthier now, perhaps even close to his former 100% self.
"Once you feel good," he said, "everything changes."
What's interesting about this is, well, the data. After missing a cut at the 2021 Masters — that was the famous one where he came in three weeks after surgery and had to extend his leg to the side while trying to read putts — Koepka really crushed the rest of the majors, finishing T2, T4 and T6 consecutively. That was the year he narrowly lost to Phil Mickelson in the PGA Championship at Kiawah just two months after surgery.
So, wait a second, did his knee tense up? worse in 2022 (when the desperate Netflix episode happened and his best result in the majors was a T55) than in 2021 two months after surgery? But now, is it healthy again?
That's what Koepka seems to be hinting at.
"It's a new normal," Koepka said of his health, "but it's definitely pretty close. [now] to what was [when I was younger]."
Koepka has always been a bit ambiguous about his injuries, often deflecting and highlighting the dramatic about the actual timeline. On Thursday, he said at one point: "I dislocated my knee and then tried to put it back on." He even said in the fall that he would eventually need a right knee replacement.
So what is going on here? What is at the bottom of all this? Why all the distraction in the discussion around his knee?
I have a theory: Brooks Koepka is terribly afraid of failure. Just like the rest of us. It's just that his fear of his failure plays out on bigger stages and has higher historical stakes than ours. That is a difficult concept to deal with.
Koepka became a generational threat during his 2017-19 major series, and that became his whole aura. He always exuded that "do you have any idea how easy it is for me to be that big?" step that closed out so many big boy tournaments. He was convincing, and he loved knowing that other people knew it.
But when he did poorly at the end of the 2019 PGA Championship (even though he won) and at the end of the 2020 PGA Championship (when he didn't) and at the end of the 2021 PGA Championship (when a 51-year-old years (old Phil Mickelson dumped him into the Atlantic), his own failure, the thing that scared him the most, the price he couldn't pay, set in.
Now, sometimes what you see is someone sullen, someone who has existential fear, and someone who has convinced himself that the only What's keeping him from participating in more major championships is one element of his game that he mostly can't control: his health.
Maybe that's true. Maybe no one can beat Koepka when he's healthy. But is he even healthy now? He claims to be, and he won't change his tune this week. But if he doesn't follow up with real contention or a Masters win this weekend, it might be easy to look back on this week (when let's assume he shoots 66 in the first round of the US Open) with Kopeka convincing himself, Oh well I wasn't really healthy in Augusta. Especially since when you need a knee replacement, you're never truly healthy.
Success has a strange way of making us doubt ourselves, and injuries, like the ones Koepka no doubt struggles to overcome, become an easy place to pin the blame. The comedic level of self-confidence that players must maintain almost requires it. But remember: Koepka showed us his roof at that 2021 PGA just two months after surgery. I was still in rehab during that PGA but he dismissed it, saying he could deal with the pain. She almost won it all. His injury is a problem, I'm not sure they are. he problem.
Koepka's struggles seem to run a little deeper than the physical. There's a psychological name for this: impostor syndrome. And it's a fairly common theme, especially among those who have experienced a high level of success like Koepka. That Netflix episode from a year ago… it may have been partly about injuries, but it seemed like it was about so much more than that. You don't talk about what's going on in Scottie Scheffler's head if all you're dealing with is an injury.
I can't stop seeing Koepka, on the pier at the end of his episode, looking out to sea, wondering what the future holds for him. For now, he has no one in front of him at this year's Masters. In a past life, Koepka's name at the top of a leaderboard like this would have struck fear among everyone else in the tournament. Now, I wonder if it doesn't cause something of its own.
Here are some more thoughts on Round 1.
Jon Rahm's rebound
After hitting a double bogey 6 on the first hole, Rahm played the last 17 at Augusta National in 59 shots, gaining 8.0 shots from tee to green and is tied for the lead with Koepka and Hovland. It was the lowest par score for any golfer in Masters history who started his round with a double bogey or worse. That extraordinary juxtaposition of the opening hole versus the next 17 is emblematic of who Rahm is at big championships, and a reminder that he doesn't get enough credit for his resilient mental game. Rahm has taken a lot of flak over the years for his temperament (sometimes, deservedly so), but he should also receive praise for his ability to weather a jarring start and climb to the top of the leaderboard.
"If you're going to double putt or four or something, it might as well be the first hole," Rahm said. "[You have] 71 holes to put it together. After that, it was more, I concentrated on the fact that all the shots were good. The readings were good. The roll was good. Obviously the speed had slowed down on the first two putts, so once I accepted that there was nothing really to investigate, I just went to work and had 17 holes to recover."
Sam Bennett Round 1 Show
Bennett could be who we thought Gordon Sargent would be. Bennett opened 3-4 on the first two holes and didn't let up. The US amateur champion has a lot of talent, although Sargent came into the week with much more enthusiasm. And while some of the shots Sargent took made me gasp out loud on the golf course, Thursday was nonetheless a Trackman golfer vs. a putting-in golfer. He certainly isn't as pretty as Sargent, but it seemed like Bennett belonged to the No. 1 player in the world, whom he played (and whose score he matched) in Round 1.
Top 10 in Round 1
Since 2005, only Tiger Woods has broken out of the top 10 after the first round of the Masters to win the tournament. If that stat holds up, and I think it will, the Masters winner for him will be one of the following golfers:
Victor Hovland
jon rahm
brooks koepka
cameron young
jason day
Shane Lowry
xander schauffele
adam scott
gary forest
scottie scheffler
sam bennett
sam burns
Spieth: Mad on the Membrane
Spieth's round can be summed up in a quote and a screenshot.
Here's the quote: "I made seven birdies so I wish I had posted a lower number."
It is the most Spieth of all the Spieth quotes.
And here's the screenshot after Spieth approached No. 13 towards Rae's Creek.
Spieth shot 32 up front, and you knew it would get weird from there. Of course. He hit it in the water at No. 11 and then again on his approach at No. 13, playing Amen Corner in 3 over. It was typical of Spieth, then, to birdie two of his last four to get his round back to 3-under, keeping him in the mix. This is the fourth time he has opened with a round in the 1960s at Augusta. In the other three, he has finished in the top three.
Scottie vs. Rahm
That's what the tournament will come down to. Scheffler shot the easiest 68 he's ever seen in his life, taking 7.9 strokes from tee to green and finishing next to last on the course on putting. That won't happen all week, and when the flat club starts to click, he'll do what he's been doing for 15 straight months and start putting distance between himself and the course. Rahm, it seems, is the only one who can keep up.