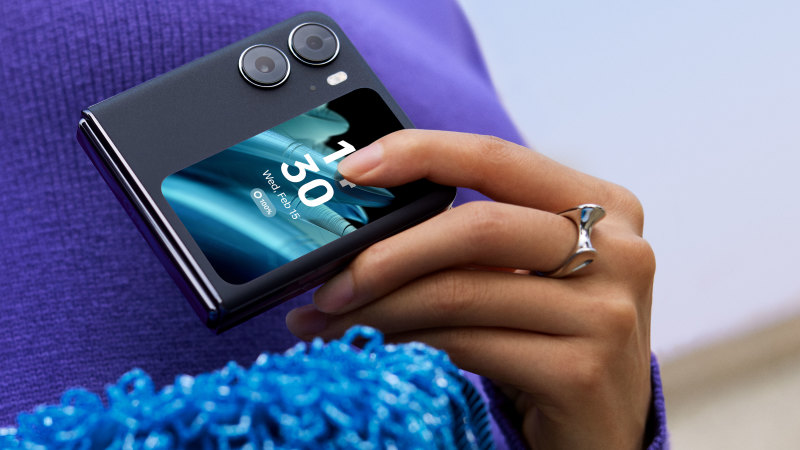 The phone will also detect when you fold the phone in half, placing the preview on one side of the bend and the controls on the other. This allows you to prop it up for timed shots, shoot more easily from a low angle, or hold your phone on its side like a camcorder for steadier video. None of this is revolutionary as far as foldable phones go, but it's executed perfectly here.
The bloat factor
Finally, there's the issue of software and user interface, which is mostly a matter of taste. In general, I'm not a fan of Samsung's OneUI; I think it overcomplicates Android, makes it flashy, pushes too many Samsung account features that handle well with standard Android features. Oppo and its ColorOS take this even further, making Samsung seem practically inconspicuous.
Every item in the settings menu is packed with data and information, telling me to give access to certain features, or explaining what "O-HAPTICS" is, or wanting me to log into an app called My Oppo so I can manage whatever . a HeyTap account is.
I consider myself pretty good at adapting to new ecosystems and learning the ins and outs, but with Oppo it seems like 12 people couldn't agree on how the phone should work, so they just included all the options and let the user decide. I do enjoy the wacky animated wallpapers though.
Many people who haven't used a foldable phone aren't convinced the category has a future, but devices like the Oppo Find N2 Flip (and presumably this year's iteration of Samsung's Galaxy Z Flip, which is rumored to have a big screen cover) make a strong argument.
Lighter than a standard premium smartphone but with a larger main screen that fits more easily in pockets and small bags, and with a smaller secondary screen that adds functionality, foldable phones are here to stay.
Charging
The only major concern left is longevity. Although the hinge design on this Oppo feels more secure and looks less scary than any non-Samsung foldable (some have large gaps that just beg for pocket lint to get stuck), it doesn't have an official IP rating of waterproofing, which will give some potential adopters a reason to pause.
Get news and reviews on tech, gadgets and games in our tech newsletter every Friday. Sign up here.