Jonathan Vautrey, meteorologist for the Met Office, urged people to "take care before you travel" as morning rush hour is expected to be affected. 
He said: "There will be some heavy rainfall the potential for disruption to travel and infrastructure in places." 
An amber weather warning has been issued for parts of north-west England because of the storm,which is forecast to bring heavy rain and severe gale-force winds. 
The alert is active from 10am until 4pm on Monday and covers coastal areas north of Liverpool up to Whitehaven. 
The Met Office has warned Brits living in those areas should be wary of solid and disruptive winds with the possibility of flying debris. 
 Damage to buildings and structures is likely, and heavy items such as tiles blown from roofs may present a potential danger to life. 
 The Met Office also warned that roads and bridges are likely to close, meaning longer journey times and public transport and other cancellations are possible, with road, rail, air and ferry services to be affected. 
 People are also warned that cuts to power, mobile phone reception, and more may occur as the storm batters power and telecommunication lines. 
READ MORE: Storm Babet a climate change 'wake up call' for Scotland
 Those in coastal areas are warned to keep away from the waterfront, with large waves and beach material likely to be thrown onto coastal roads, sea fronts, and nearby properties. 
 Chief meteorologist Matthew Lehnert said: "Storm Debi has developed rapidly overnight and will bring impacts across parts of the UK today.  
 "Because of the particular risk of impacts to parts of County Armagh and County Down this morning and parts of northwest England through much of the day we have issued two amber wind warnings."
Meanwhile, much of the Republic of Ireland is covered by a red wind warning – the highest level of alert – which came into place in the early hours and will last until 9am, with an orange warning set to carry on until 10am in parts.
A separate overnight red warning for east Galway and south Roscommon was extended until 7am.
A yellow warning applies to every county in Ireland from midnight until 3pm on Monday.
Ireland's National Emergency Co-ordination Group (NECG) advised schools and pre-schools in several counties to remain closed until 10am on Monday.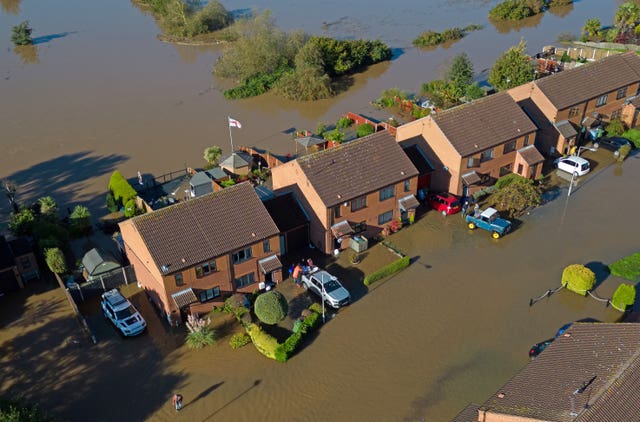 Jason Kelly, chief meteorologist at the Met Office, said: "The strongest winds are expected to affect parts of the Republic of Ireland early on Monday, possibly coinciding with the morning commute, before affecting parts of north Wales and northern England into the afternoon.
READ MORE: What is a Met Office red weather warning and is it dangerous?
"Whilst the very strongest winds will have eased somewhat before reaching the UK, we are still expecting some significant impacts, and a wind warning has been issued.
"Additionally, Debi will bring a period of heavy rain to Northern Ireland for which a combined wind and rain warning has been issued."
Simon Partridge, a spokesman for the Met Office, added: "For parts of north-west Wales and England, there is a possibility of 70 to 80mph winds.
"It will be a wet and blustery day for all."