A Republican dissident voted against expelling Tennessee Democratic Rep. Justin Jones a week after Republican lawmakers attacked him for his role in a gun control protest.
Last Thursday, the trio of lawmakers drew the ire of Republican President Cameron Sexton after violating decorum by speaking out of character and repeating a chant in support of gun control as a youth-led protest unfolded outside the chamber.
The demonstration followed the shooting at Nashville's Covenant School, which left three children and three adults dead and reignited the gun control debate across the country.
Republican Rep. Charlie Baum, who also serves as a professor of economics at Middle Tennessee State University, was the only Republican to vote against expulsion on Thursday.
Republican Rep. Sam Whitson was present during the vote but abstained. the other 72 republicans who were in the audience voted to expel the Democrat.
At press time, lawmakers were still debating whether to expel two other democrats who participated in the demonstration, Representatives Gloria Johnson and Justin Pearson.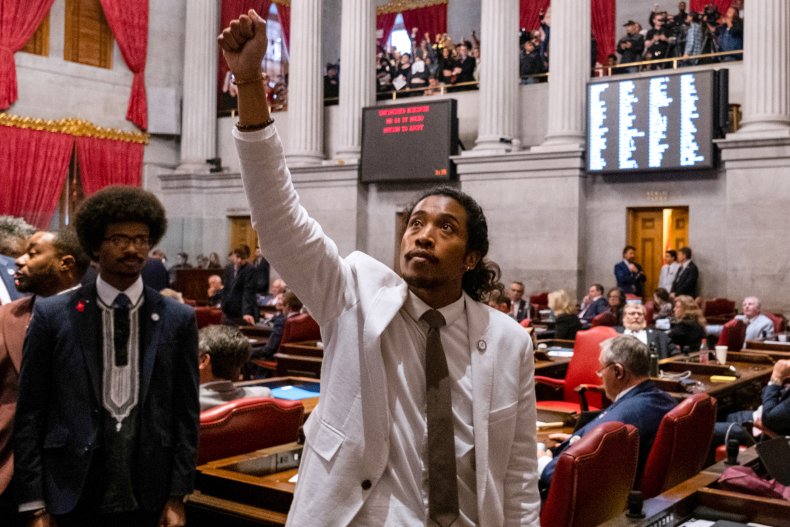 Tennessee Democratic party President Hendrell Remus said news week earlier this week that it was "highly likely" that all three Democrats would be ousted due to the state's House of Representatives being heavily controlled by Republicans.
Hendrell also accused Sexton and the Republican leadership of hypocrisy, arguing that Republican members had not been disciplined for behavior that was arguably far worse.
"There have been Republicans who have been arrested for bribery, who have committed crimes that originated within the House," Hendrell said. "We did not see this type of posture towards them."
news week has reached out to Baum by email for comment.
This is a developing story and will be updated as more information becomes available.