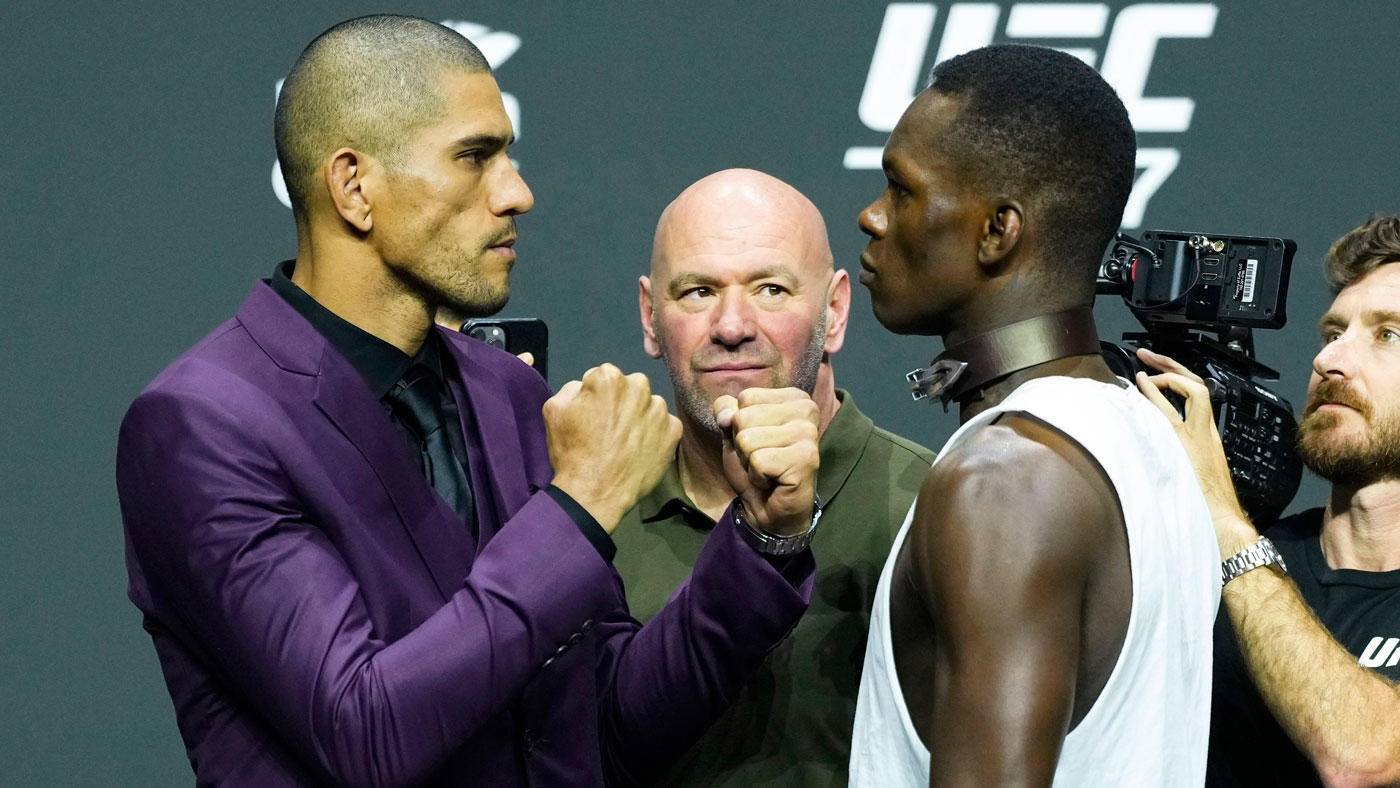 The UFC middleweight championship will be on the line Saturday night when Alex Pereira defends the belt against Israel Adesanya in a battle of old rivals. With two victories in the kickboxing ring and a fifth-round TKO victory to capture the title in his matchup at UFC 281, Pereira has had Adesanya's number throughout.
Despite that history, it is Adesanya who is poised to enter the fight as a light favorite. In their most recent encounter, Adesanya had gotten the best of things for almost the entire fight, but Pereira's leg kicks finally slowed Adesanya down and a late flurry of punches ended "The Last Stylebender's" title reign. .
The main event of the night is a battle between Jorge Masvidal and Gilbert Burns. Both men are former title contenders who failed to defeat Kamaru Usman. Now that Usman has lost the belt to Leon Edwards, a win could put either man in position for another shot at becoming world champion.
Don't have enough boxing and MMA? Get the latest in the world of combat sports from two of the best in the business. Subscribe to Morning Kombat with Luke Thomas and Brian Campbell for the best analysis and in-depth news, including a full UFC 287 preview below.
With so much going on on Saturday night, let's take a closer look at the full card with the latest odds from Caesars Sportsbook before we get to our staff's predictions and picks for the PPV portion of the festivities.
UFC 287 fight card odds
Odds via Caesars Sportsbook
Israel Adesanya -135 vs. Alex Pereira (c) +115, middleweight championship
Gilbert Burns-475 vs. Jorge Masvidal +350, welterweights
Adrian Yanez -180 vs. Rob Font +152, bantamweight
Kevin Holland -260 vs. Santiago Ponzinibbio+210, welterweight
Raúl Rosas Jr. -260 vs. Christian Rodríguez +210, bantamweight
Kelvin Gastelum -125 vs. Chris Curtis +105, middleweights
Luana Pinheiro -175 vs. Michelle Waterson +150, women's strawweight
Karl Williams -420 vs. Chase Sherman +325, heavyweights
Joe Pyfer -200 vs. Gerald Meerschaert +170, middleweights
Loopy Godinez -270 vs. Cynthia Calvillo +220, women's strawweight
Ignacio Bahamondes -350 vs. Nikolas Motta +275, lightweight
Shayilan Nuerdanbieke -180 vs. Steve Garcia +15, featherweight
Jaqueline Amorim -270 vs. Sam Hughes +220, women's strawweight
With such a massive main event on tap, the CBS Sports team went ahead with predictions and picks for the main card. Here are the ones they picked: Brent Brookhouse (combat sports writer), Brian Campbell (combat sports writer, "Morning Kombat" co-host), Shakiel Mahjouri (writer), Michael Mormile (producer), and Brandon Wise (senior editor). ).
UFC 286 picks, predictions
Pereira (c) vs. Adesanya
Pereira
Pereira
Pereira
adesanya
Pereira
Burns vs. Masvidal
Burns
Burns
Burns
Burns
Burns
Yáñez vs Fuente
Fountain
yanez
yanez
yanez
yanez
Holland against Ponzinibbio
Holland
Holland
Holland
Holland
ponzinibbio
Rosas vs. Rodriguez
roses
roses
roses
Rodriguez
roses
Records to date (2023)

12-8
12-8
13-7
15-5
12-8
Pereira vs. Adesanya
campbell: Sometimes, even at the elite level of combat sports, certain fighters simply possess specific opponents, regardless of time and place. Although he was forced to rally late twice to score stoppages, Pereira has now outpointed Adesanya on three separate occasions in kickboxing and MMA. In that sense, it may not matter how many of those rounds combined Adesanya won. From a stylistic standpoint, Pereira simply gives Adesanya hell, and more specifically, his level of experience within MMA, Adesanya hasn't made him pay for his own lack of grappling skills. Expect Pereira to continue to balance poise and patience with the fact that he constantly comes up against Adesanya, always looking to make him uncomfortable or pay for any little mistake. Pereira is huge for the division, which negates some of the length advantages Adesanya has had at times. He also has the chin and stamina to survive the tough times and still be dangerous in the end.
Brookhouse: Adesanya admitted that Pereira's calf kick attack took a toll on him in their last meeting. There's no reason to think Pereira won't lean on that too early and too often to try to compromise Adesanya's move. The rivalry between the two is so unusual, with Adesanya being the "best fighter" for much longer together, but Pereira raising his hand every time because he has had the best individual moments. Sometimes a fighter just has another guy's number. It seems that is simply the case here.
Burns vs. Masvidal
campbell: Let's come out and say it: This is a terrible style matchup for the 38-year-old Masvidal, who is currently riding a three-game losing streak. Yes, the three-round co-main event on Saturday offers Masvidal one last shot at a title shot considering the history he has with reigning welterweight champion Leon Edwards since their backstage fight in London in 2019. There will be no shortage of motivation for Masvidal and the danger he brings as a striker is still very real. But if Burns showed anything in his February demolition of Neil Magny, it's that his new commitment to grappling, and dealing damage once he's got his opponents down, is still a bad equation for Masvidal to deal with. At 36, Burns remains much closer to his prime and simply has more ways to win in this matchup.
Mahjouri: Burns is one of the most complete threats in the welterweight division. She has world-class jiu-jitsu skills to complement her ever-improving boxing. Burns confessed to "Morning Kombat" that she fell too hard for her hands. A submission win over Neil Magny in her last fight showed a lot of maturity from Burns as she looks to build a new case for a title shot. If he can continue to improve his fighting offense and flashing defense on him, he could be unstoppable. Masvidal has a lot going against him and would have benefited from a lesser challenge as he goes through the first losing streak of his career. Kamaru Usman and Colby Covington proved too much for Masvidal and I'm afraid Burns is in the same ballpark.
Yáñez vs Fuente
campbell: Talk about the great matchup in the deepest and most talented division in the sport. Riding a seven-fight win streak that stretched back three years before his actual UFC debut, Yáñez has been seen as a future title contender of late as he showcases his dynamic boxing prowess. But he has yet to fight someone in the UFC who is in the same class as his opponent. Even though Font is 35 years old and coming fresh off a year-long layoff and two-game losing streak against the elite of José Aldo and Marlon Vera, he remains incredibly eager to maintain his place in the ranking, which was largely acquired. measured through an impressive four-fight win streak against Sergio Pettis, Ricky Simon, Marlon Moraes and Cody Garbrandt. Font has already predicted a fight of the night and as long as he can build behind his impressive jab, the experience advantage could be enough to stop Yanez's impressive rise.
Mahjouri: MMA boxing fans are in luck. Font and Yáñez are two of the best forwards the division has to offer. It's a big step up in the competition for Yanez, who has earned a performance bonus in each of his five UFC fights. Font has a lot of experience at the highest level and should challenge Yáñez, particularly in the first round. Font is the more elusive forward and will have to stay and move. Also, it may be wise for Font to mix in some takedowns. Font is durable, but he took a lot of damage against Vera. He's prudent that he's taken an extended layoff, as his teammate Calvin Kattar did after the Max Holloway loss. Yáñez is a powerful force with a thoughtful approach to MMA striking. This fight can go either way, but I have a feeling Yanez's technique and pressure will win two out of three rounds.