The Prince and Princess of Wales met while studying at the university in the early 2000s.
Published annually, The Times and Sunday Times Good University Guide aims to provide the most comprehensive guide to higher education in the UK.
The guide evaluates everything from satisfaction with teaching quality and the student experience through to degree completion rates and graduate employment prospects.
Following St Andrews in the Scottish university rankings is the University of Glasgow, which has jumped one place from last year.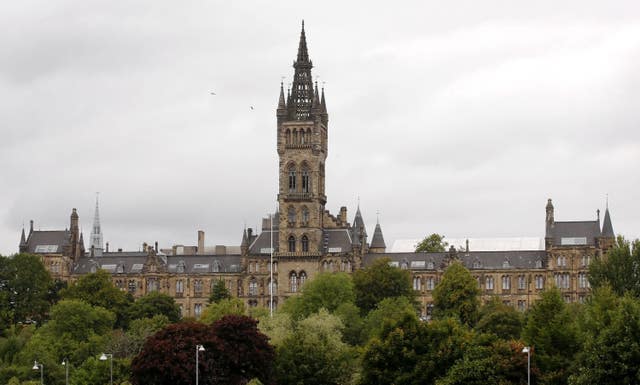 First Minister Humza Yousaf attended Glasgow, as did former first minister Nicola Sturgeon.
The University of Edinburgh came in third, dropping one place since last year.
Further north, the University of Aberdeen has jumped one place to fourth, after coming fifth in the rankings last year.
READ MORE: Dates announced for strikes at eight colleges and universities
It leapfrogged Glasgow-based University of Strathclyde, which has dropped one place to fifth after coming fourth in last year's rankings.
The University of Dundee has stayed in the same position at sixth.
Glasgow Caledonian University and the University of Stirling switched places in this year's rankings, with the Glasgow-based university coming in at seventh and Stirling dropping down one place to eighth.
In Aberdeen, Robert Gordon University has jumped one place in the rankings to 10th place and Queen Margaret University, Edinburgh has also jumped one place to 11th.
But fellow Edinburgh-based university, Heriot Watt, has fallen three places in the rankings, to 12th.
Both Abertay, in Dundee, and the University of the West of Scotland, retained their places of 13th and 14th respectively.
The rankings did not include the University of the Highlands and Islands.
Principal and Vice-Chancellor, Professor Dame Sally Mapstone FRSE, said: "To make history by coming top in both the Times and Guardian University Guides in the same season is a special way to start a new academic year in St Andrews.
"This achievement belongs completely to our fantastic staff and hard-working students.
"It reflects a deep institutional commitment to a critical balance of world-leading research and teaching, and the ways in which St Andrews students respond to that.
"While positive external validation is always welcome, no Vice-Chancellor ever sets out to top a league table, and what matters most to me are the individual and collective experiences of those who study and work at this great university.
"St Andrews never stands still; we are always looking for ways to improve what we do.
"I think everyone who works and studies here will be delighted to see that culture reflected in where St Andrews now sits as a sector leader."
READ MORE: The action universities need to take on free speech
Helen Davies, editor of The Times and The Sunday Times Good University Guide, said: "The higher education landscape has never been tougher.
"It is more competitive to get a place at many of our top institutions; the cost of attending university has soared, leaving graduates with extraordinary debt; and in many cases campus life still bears the scars of the pandemic. Meanwhile lecturers are on strike and the marking crisis is a running scandal.
"It means any prospective student, parent or carer needs to think hard about whether university is the right choice, and then where to study and what subject.
"It's where this guide – our 30th edition – is here to help. Our online version has so much more on how the universities compare subject by subject, a guide on campus life, and what scholarships and bursaries may be on offer.
"We are here to champion the ambitious work of our first-class universities, and the aspirations of any student of any age who wants to keep on learning."