Five days after the in-person National Association of Urban Debate Leagues (NAUDL) Championship Tournament began, a winner was finally crowned. Zoom.
In an intense final round of debate, Port Los Angeles High School defeated Minnesota's Central St. Paul High School in a 4-1 decision on Wednesday night.
Los Angeles debater Delmy Lopez said the "sheer happiness" of her victory was still sinking.
"It's a surreal experience," Lopez said. "He hasn't realized it yet. I think he will realize later that I won the tournament with my partner… and all my hard work paid off."
Even before the final round, this Port of LA team was making history as the first from their school to qualify for the tournament.
Jun Kwon, who also debated for Port of LA, said it's very important to "pave the way for the potential" his team has in future Urban Debate competitions.
While Port of LA (metaphorically) walks away with the trophy, the St. Paul Central doesn't leave the tournament empty-handed. Before announcing the winner, Rhonda Haynes, NAUDL's executive director, said that for the first time in the tournament's history, each finalist will receive a $5,000 scholarship, courtesy of NAUDL sponsor Boies Schiller Flexner Law Firm.
The debaters were visibly shocked when the number was announced, each knowing the difference it would make to their finances over the summer and in their first semester of college.
"That money really goes a long way," said Maren Lien, a debater for St. Paul Central.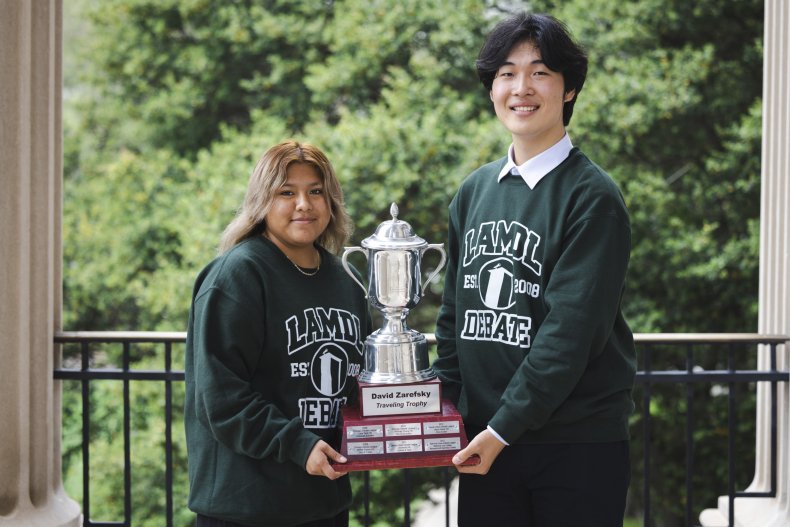 For the first time in history, NAUDL hosted a hybrid open policy debate tournament. Most of the tournament was in person, after four years of online debate. Thirty-eight teams from 19 different Urban Debate leagues met at Southern Methodist University in Dallas from March 31 to April 2.
In each round, the students alternated between arguing the affirmative and negative sides of the resolution that NAUDL chose for the year. For the 2022-2023 season, the teams debated whether the US should substantially increase its security cooperation with NATO in areas that include artificial intelligencebiotechnology and cyber security.
But just as the semifinals began on Sunday, the weather in Texas took a turn. With tornado watches in place across the South and Midwest, crews scrambled to get home as many flights from Dallas were cancelled. To ensure that all teams got home safely and in a timely manner, the NAUDL decided to delay the final round and host it on Zoom.
After finishing in the semifinals last year, the St. Paul Central team didn't expect to get very far in the competition.
"I didn't come into this weekend expecting to be as successful as we were," Lien said.
Once they passed where they thought they would end up, Cayden Mayer of St. Paul Central said they hit a "fun spot."
"Losing in the final as your last debate is a big booty because you're still in the final," Mayer added.
As seniors, this was also the final debate for Mayer and Lien, who have been partners for three years.
Sara Sánchez, NAUDL's director of programs and communications, said not much has changed for online debate. NAUDL recruited five "rock star" alumni and former league officials to judge the final round.
He added that NAUDL had never before delayed the final round and that prior to the COVID-19 pandemic, the organization did not have the ability to host a virtual final.
A final match on Zoom wasn't ideal, but it's nothing these resilient debaters couldn't handle. After all, much of these debaters' high school careers have been virtual.
"The fact that it's online isn't optimal for the presentation or performance aspect of the debate, but I've spent over a year doing debates online during COVID, so I'm not familiar with the landscape," Lien said.
As the two teams battled over Zoom, NAUDL streamed the debate live on YouTube. The livestream chat was bouncing around all the time, with viewers and debaters from other teams hyping up the finalists and discussing their plot strategies.
Sanchez said it was great to see more than 100 people interacting during the round and "cheering on their friends" from Los Angeles and Minnesota.
Kwon said enduring support from friends, family and the Los Angeles Metropolitan Debate League helped bring about the victory.
"We were thinking too much about it, but the support we had was unconditional from everyone around us, [and] I think it gave us the final push to keep us motivated to win the last round," he said.
The additional days before the final gave both teams more time to prepare. But more time for preparation means more time to focus on the discussion.
"Having [the finals] delayed was very beneficial for us, but also the stress consumed me", said López.
Lopez and Kwon are just juniors and they plan to keep this winning streak going into the upcoming season as they search for a spot in the Tournament of Champions.
While winning is definitely a great feat, both teams agree that their love of the competition and the Urban Debate community is paramount.
"We gave it our all, and they're great debaters," Mayer said. "There is no one I would rather lose to in the final."
Lopez said that competing against the other team helped refine his arguments.
"They cemented and refined some of our arguments, and they were good debaters," he said. "I think we can all improve and refine our skills in the future."
This tournament created a community and a greater sense of family and organization compared to other competitions on the national circuit, Kwon added.
"The competition was much healthier," he said.