Meanwhile, the elections watchdog has urged the Government to expand accessibility after voter ID rules prevented some from participating in May's local elections and will lock even more out in a higher turnout poll.
Under the new ID policy introduced by the Conservative Government, this year's local elections in England were the first time voters were required to show ID before collecting their ballot paper at polling stations.
It will be widened to cover UK general elections from the autumn, meaning it is likely to be a requirement at the next Westminster election, due by January 2025.
The Electoral Commission said some people found it harder to vote in May because of the new rules, including disabled people, the unemployed, younger people and those from ethnic minority communities.
READ MORE: Jacob Rees-Mogg says voter ID is a Tory 'gerrymandering' scheme
It also said more deprived areas had a higher proportion of people turned away from polling stations compared to less deprived areas.
In its interim report in June, the Electoral Commission found that 14,000 people – 0.25% – did not vote after being unable to show an accepted form of ID.
The independent body that oversees elections warned the challenges will be exacerbated at a general election, when far more people participate, including those who do not vote at local elections and are much less likely to know about the ID requirement.
Its recommendations include expanding the list of accepted IDs, providing options for those without ID such as being vouched for by another voter, and raising awareness of the support available for disabled voters.
Director of communications Craig Westwood said: "The new voter ID requirement has posed a barrier to some voters and is likely to have a larger impact at higher turnout polls.
"We have made recommendations to expand accessibility and support for voters, which should be introduced ahead of the next UK general election to ensure large numbers of people are not prevented from taking part."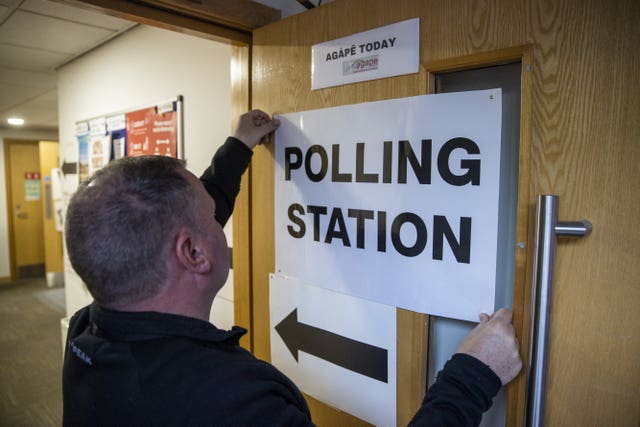 The Commission also noted electoral administrators were only able to deliver the local elections with the help of authorities not holding polls, and warned there will be even more pressure on them at the next general election with the ID changes.
The LGIU said electoral staff are "unconvinced they can deliver a successful general election with voter ID" if Parliament calls one ahead of the deadline, as is widely expected.
The not-for-profit organisation warned of a dwindling supply of polling locations such as scout huts, and a lack of qualified workers to run a national poll.
The report said 88% of those surveyed said recruiting polling stations staff was a problem, with 82% saying voter ID had made it even more difficult.
LGIU chief executive Jonathan Carr-West said: "With a general election on the horizon it is particularly important that electoral administrators have the resources they need to make elections happen.
"This doesn't mean providing them with the bare minimum and ensuring that their dedication to the role means they fill any gaps with their goodwill.
"It means making sure that elections are treated as part of the critical infrastructure of the United Kingdom and that risks to election delivery are taken seriously and electoral administrators are listened to."
He added: "It is still not clear that voter ID brings any benefits to the process, and indeed the worries highlighted in our interviews are not addressed by the policy. Yet, it is here to stay.
"It is, therefore, vital that we learn lessons from the experience of administrators at the elections in May, to allow for the minimum possible chances of election failures when this policy is implemented on a larger scale."
Cllr Shaun Davies, chair of the Local Government Association, said: "Councils will need support from Government to recruit additional staff so they can manage increased demand. As well as this there needs to be a centrally funded campaign to ensure as many voters as possible are aware of voter ID requirements ahead of a general election."
Labour's shadow minister for democracy Florence Eshalomi said: "Jacob Rees-Mogg has admitted that this shabby scheme was designed to rig the rules to lock voters out of democracy. Ministers are required to hold a comprehensive review into this discredited policy and there must be no more dither and delay."
READ MORE: Tory minister insists voter id 'thoroughly good thing'
The Department for Levelling Up, Housing and Communities, which says the voter ID policy helps to stamp out potential fraud, pointed to its own research showing that 95% of people who voted in person in May found the process easy.
Dr Jess Garland, of the Electoral Reform Society, said the Electoral Commission's report "paints a picture of a damaging and disproportionate policy that is affecting some voters more than others".
"We would urge the Government to reverse this unnecessary policy or, at the very least, make wide-ranging changes to it to ensure we don't see thousands of people being prevented from casting their vote in a general election," she said.
Elections minister Baroness Scott said: "The Government has always been confident in the ability of local authorities to implement the voter identification changes whilst continuing to deliver our elections robustly and securely.
"It's very encouraging the vast majority of voters in the polling station – 99.75% – were able to cast their vote successfully at the local elections in England in May and adapted well to the rollout of voter identification in Great Britain.
"We are ensuring we fully understand how the policy has operated in practice, what has gone well and where there are any areas for improvement in the future."