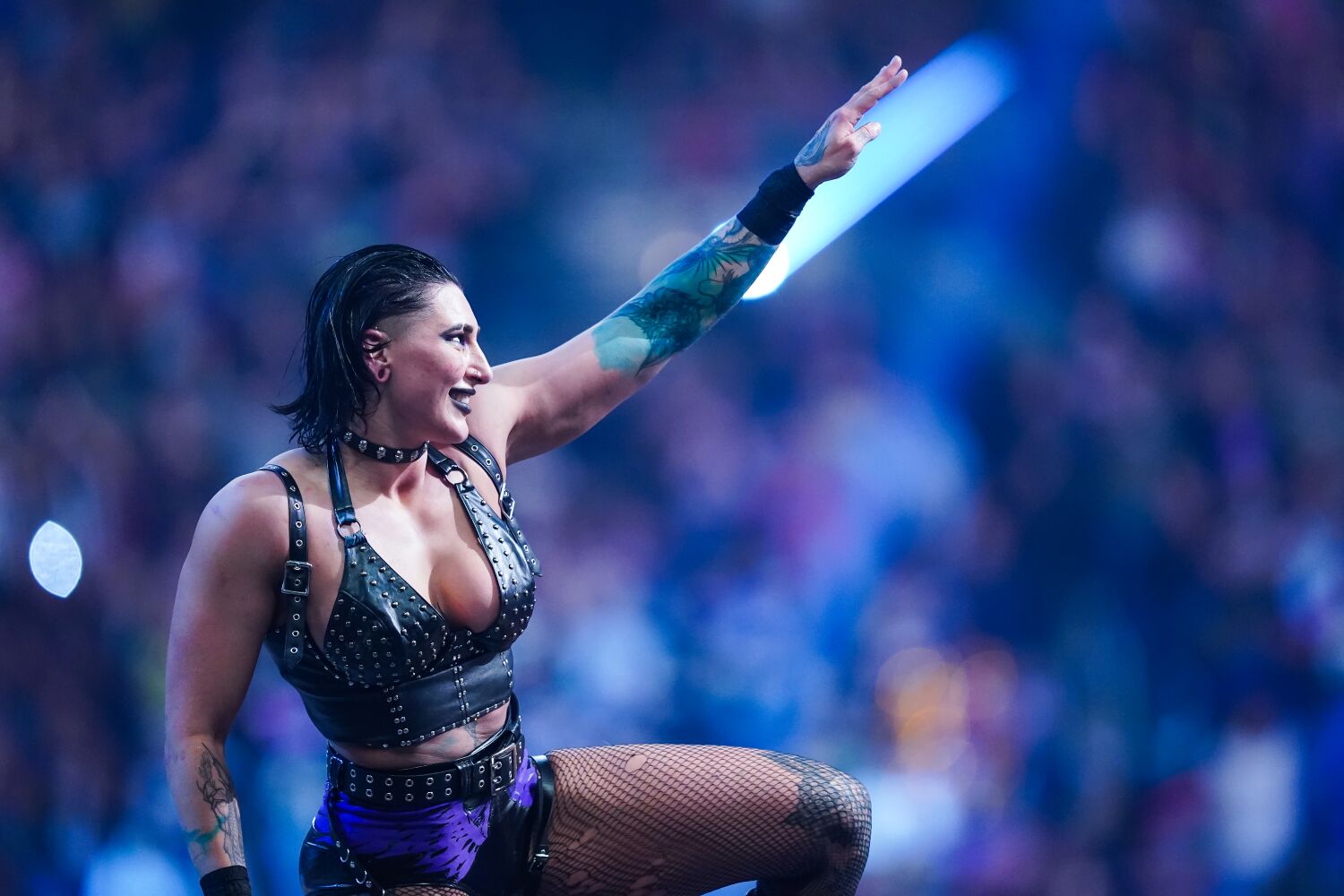 Ultimate Fighting Championship and World Wrestling Entertainment will combine to form a new $21.4 billion fight sports and entertainment powerhouse, majority owned by UFC parent Endeavour.
The newly combined publicly traded company, which has yet to be named, will be led by Endeavor Chief Executive Ari Emanuel, the companies said Monday. Vince McMahon will serve the combined company as CEO, the same title he held in WWE.
Endeavour, which also owns Hollywood talent agency WME, will have a 51% majority stake in the new venture. WWE shareholders will have a 49% stake. The combined company will trade under the TKO stock ticket and intends to list on the New York Stock Exchange.
Emanuel will continue in his role as Endeavour's CEO and Mark Shapiro will be president and COO of Endeavor and the new publicly traded company. Nick Khan will remain Chairman of WWE and Dana White will remain Chairman of the UFC.
"Together, we will be a $21+ billion live sports and entertainment powerhouse with a collective fan base of more than 1 billion people and an exciting opportunity for growth," McMahon said in a prepared statement Monday.
The deal values ​​WWE at $9.3 billion. Endeavor is contributing to the UFC an enterprise value of $12.1 billion. Both Endeavor and WWE will contribute cash to the new combined business. The deal is expected to close in the second half of this year.
The UFC and WWE had combined revenue of $2.4 billion at the end of their 2022 fiscal year, with revenue growth of 10% each year since 2019, according to Endeavor.
The deal comes after a period of turmoil in WWE.
McMahon, 77, who took over his father's regional wrestling promotion business and turned it into a global media brand, announced his retirement in July following reports that company money was used to pay to victims of sexual harassment.
But McMahon recently returned as executive chairman, and WWE announced in January that it had hired a financial adviser to facilitate the sale.
Several parties were rumored to be competing for the popular asset at one point, including ESPN owner Walt Disney Co., Comcast's NBCUniversal and the Saudi Arabian Public Investment Fund.
WWE is a major provider of live television programming, which has become more valuable to the networks as viewers have shifted to streaming video for scripted movies and series.
WWE has media rights agreements with NBCUniversal, which airs "Monday Night Raw," and Fox Corp., which airs "Friday Night Smackdown" on its broadcast network. It is said that both are approaching for renewal.
In an interview with CNBC, McMahon said the recent scandal had no bearing on the decision to sell the business his family has controlled for 70 years. "Things have to evolve," McMahon said. "This is the right business decision. This is the right family decision."
When asked about his legacy, McMahon said: "I have made mistakes both personally and professionally in my 50-year career. I recognized each one of them and moved on."
This is Endeavour's latest deal, which was made public in April 2021.
The company started in 1995, after Emanuel and three other ICM agents (Rick Rosen, Tom Strickler and David Greenblatt) defected to form their own agency, all pledging their homes for a $500,000 bank line of credit.
Since then, Endeavor has grown into an entertainment giant in a series of acquisitions that have taken its business beyond representing talent. Some of his notable acquisitions include the UFC and the live events company On Location.
"This is a unique opportunity to create a pure global live sports and entertainment construct for where the industry is going," Emanuel said in a statement. "Over decades, Vince and his team have demonstrated an incredible track record of innovation and creating shareholder value, and we are confident that Endeavor can deliver significant additional shareholder value by bringing the UFC and WWE together."
Times staff writers Stephen Battaglio and Stacy Perman and the Associated Press contributed to this report.